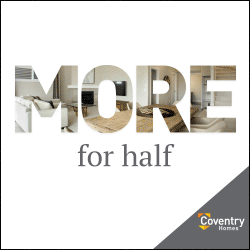 Get ready to expand your living space by adding a fully developed Maximum Living® basement to a participating* Coventry Homes' pinnacle model for 50% off our regular price. Our Maximum Living® package gives homeowners the opportunity to add some desirable square footage to a basement – in gorgeous Coventry Homes style, of course! What makes this offer even more amazing is that your basement development will be completed at the same time as the rest of your home! Plus, it will be built to our outstanding "Pinnacle" specifications. This means, your basement will be built to the same high-end standards and feature the same beautiful finishings as the rest of your home.
What kind of standards and finishings are we talking about? Here's a few to get us started:
•        9-foot ceilings will keep your basement feeling spacious and airy.
•        An additional full bathroom (as per plan), complete with standard granite/quartz countertops.
•        An additional bedroom (as per plan) will help accommodate a growing family or guests.
•        A corner gas fireplace – perfect for Edmonton's cold winters!
•        Large slider windows to enhance the basement's bright and welcoming environment.
This incredible sales event is available in many of our Coventry Homes communities on participating pre-sale pinnacle models – but only for a limited time! So hurry, because once with event ends, all our Maximum Living® packages return to return to their original pricing.
If you're looking for a new home with more space, then this is definitely the offer for you. Coventry Homes offers a variety of expertly crafted homes in a wide range of sizes and styles. Our selection of professionally designed lifestyle packages can be paired with any of our floor plans – which are based on the most desirable lifestyle needs of our customers. Coventry Homes are located in some of Edmonton's most coveted communities, and feature desirable amenities located both with the neighbourhood and nearby.
Visit our showhome listings page and check out some of the best real estate options in our city!  Contact us today to find out how you can get MORE living out of your home.
*Some restrictions may apply. Visit a showhome and speak with our knowledgable staff for full details.